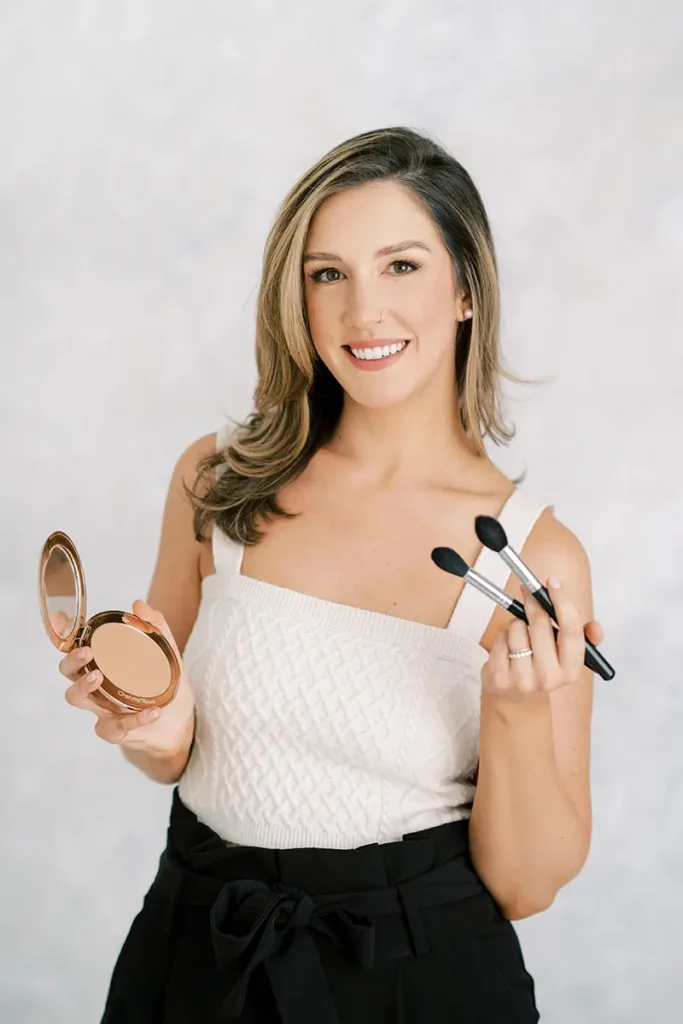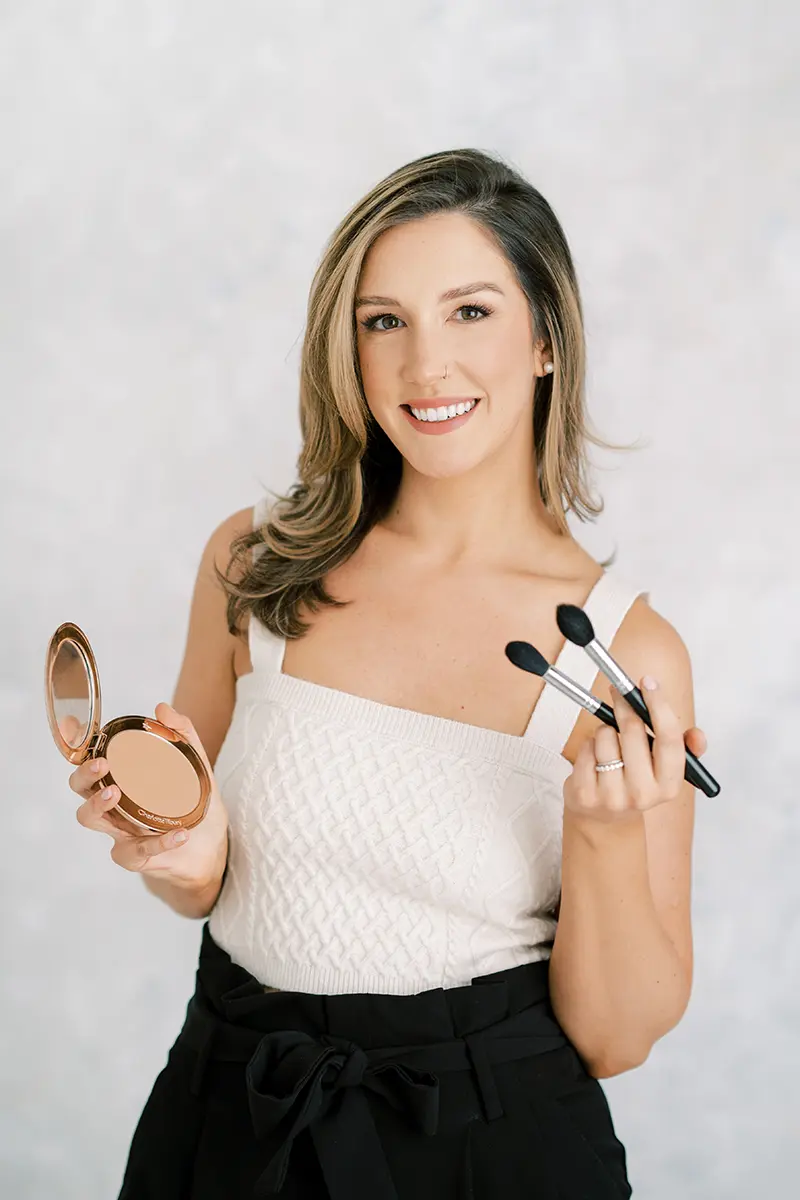 If soft glam is your style, you've come to the right place! 
With more than 10 years of experience, I understand the importance of feeling beautiful, but also like yourself. I take pride in tailoring each look to match your individual style. My approach to hair and makeup is to enhance your natural beauty so you feel confident for your wedding or event. 
Thank you for considering me for your special day and I can't wait to connect!
(hair must be clean and dry)
(hair must be clean and dry)
Event or Attendee Makeup
$145
(false lashes included)
Event or Attendee Hair Styling
$135
(false lashes included)
(hair must be clean and dry)
How far in advance should I book your services?
I recommend booking your bridal makeup artist as soon as you have your wedding date and venue confirmed. Popular dates and weekends tend to book up quickly, so it's best to secure your appointment as early as possible.
Can you accommodate large bridal parties?
For hair OR makeup, I can accommodate bridal parties up to 7-8. For more services, or bridal parties that request both hair and makeup services, I will hire on another artist. I want to ensure that everyone receives the same level of high- quality service and that we stay within the timeline.
Do I need to do a Trial?
Yes, I do require a trial. If you have a specific look you are going for or are unsure of what you are looking for, a trial can help put your mind at ease. During a trial we tweak the makeup to your individual specifications until it's perfect.
On average, a makeup trial will take between 45 minutes to 1.5 hours. If you're also having your hair done, plan for up to 2.5 hours for both services. Remember, this is your chance to work with the artist to perfect your look, so take your time and communicate any concerns or preferences you may have. Trials should be booked 1-3 months prior to your wedding day.
What services do you offer?
We offer a wide range of services including hair styling, makeup application, hair and makeup for photo shoots, weddings, and other special events. We also offer tanning, facial, brow packages through The Loft 88 - these services can always be added to your hair + makeup services!
Can I bring my own extensions to be installed by you?
Yes of course! A small install fee will be added to your remaining balance. 
How do I prepare for my hair and makeup appointment?
To ensure the best results, we recommend coming to your appointment with clean, dry hair and a clean, moisturized face. If you have any specific requests or inspiration photos, please bring those to your trial!
What if I do not have a bridal party? It's just me.
For weddings Friday-Sunday, a minimum spend of $750 is required. There is no minimum spend for Monday-Thursday weddings.
Wow wow WOW. Working with Megan was so amazing!! She's kind, personable, and makes you feel so comfortable. As a destination wedding bride who had her makeup trial three days before the wedding, I definitely had some nerves but Megan eased them all! She gave wonderful recommendations based on the inspiration photos I brought and my own features so it was perfectly customized to me! Her expertise and passion is so evident. I shed so many happy tears on my wedding day and my makeup didn't budge! I would recommend her to anyone :)'
From the minute I walked into my bridal trial to the end of my wedding day, Megan made me feel the most beautiful I've ever felt. She brought my vision to life even better than I could have imagined and my long, thick hair stayed in place through rain, wind, and partying! Special shoutout from my mom who had her hair and makeup done by Megan as well. She was nervous to give up control and was so incredibly happy with how it all turned out. I'll be recommending Megan to all of my friends!
Megan is an absolute pleasure to work with (she's so much fun) and she made me look even better than I imagined possible. I felt and looked incredible all without looking overdone. I've never felt more beautiful! I've recommended Megan to all my bride friends and I'll definitely be using her services again. Cannot say enough good things about Megan!